Dr. Xavier Ruyra Baliarda
Dr. Xavier Ruyra Baliarda
Head of Cardiac Surgery at Teknon Medical Centre - El Pilar Hospital. Director of Teknon Cardiovascular Institute
Dr. Ruyra is an expert in minimally invasive cardiac surgery and bloodless cardiac surgery, mitral repair surgery and sutureless aortic valve replacement surgery and TAVI. He is one of the world's leading specialists in the Ross procedure, a heart operation which involves using the patient's own pulmonary valve to replace the diseased aortic valve. As well as being one of the most prestigious cardiologists in the field, he is a professor at the University of Barcelona and has developed various patents to repair and reconstruct valves.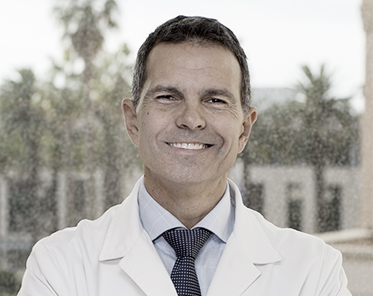 Professional experience
Membership in scientific societies
Member of the Spanish Society of Cardiac Surgery.
Member of the European Board of Cardio-Thoracic Surgery and the European Society of Cardio-Thoracic Surgery.
Spokesperson of the Catalan Organisation of Transplantation (OCATT).
Associate Professor of Surgery at Autonomous University of Barcelona.
Research and teaching
In academics:
Presentations as an invited doctor: 52.
Training courses in Cardiac Surgery: 4.
Invited lecturer & Moderator: 15.
Articles, publications and chapters in books: 3. Original Articles: 51.
No. of patents (in which he participated): 3.
Prosthetic band for mitral valve repair. WIPO patent application WO/2011/113986
Device for repairing mitral valve insufficiency. US 2010/0241222A1
Heart Valve sewing cuff. WO 2012/162522. Main inventor.
Stay in foreign centers
Post-Graduate Course Aortic surgery Symposium. Mount Sinai School of Medicine. New York (1998, 2006)
Aortic and Mitral Reconstructive Surgery. Brussels (2002).
Cours superieur de Technique Cirurgicale. Université de Paris. Hôpital Broussais (1997).
Languages for clinical practice
Spanish
Catalan
English
French