Dr. Josep Brugada
Head of the Arrhythmia Section in Teknon Medical Centre and Clínica Rotger
A leading expert in cardiac arrhythmia and sports cardiology, Dr. Brugada Terradellas has over 20 years' experience as a Medical Director of Cardiology. He has written many national and international scientific publications and his contributions to the research field include profiling a syndrome that causes sudden death (Brugada Syndrome). Furthermore, Dr. Brugada has been awarded for his professional excellence on many occasions and is a member of the main medical societies of his speciality.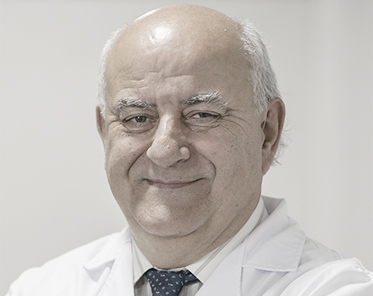 Professional experience
Head of the Arrhythmia Unit, El Pilar Clinic and Teknon Medical Centre.
Medical Director of Barcelona Hospital Clinic.
Head of the Arrhythmia Section at Sant Joan de Déu Paediatric Hospital.
Head of the Arrhythmia Unit at St. Jordi Cardiovascular Institute.
Doctor of Medicine and Surgery with Cum Laude qualification from the University of Barcelona.
Membership in scientific societies
President of the European Heart Rhythm Association (EHRA) between 2006 and 2008.
Member of the Executive Committee, European Society of Cardiology, 2008-2009.
Member of the International Advisory Board of the North American Society of Pacing and Electrophysiology (NASPE), 1998-2002.
Research and teaching
Professor of the Department of Medicine at the University of Barcelona (2009-present).
Associate Professor of Medicine at the University of Barcelona (1997-2008).
Professor of Psychology at the University of Limburg, Netherlands (1990-1991).
486 publications in journals with an impact factor, total impact factor: 1,824; citations: 20,903; H-index: 68.
Right Bundle Branch Block, persistent ST segment elevation in V1-V3 and sudden death. A new clinical syndrome. Journal of the American College of Cardiology, 1992, over 3,000 citations in literature.
Genetic basis and molecular mechanisms for idiopathic ventricular fibrillation. NATURE 1998, over 1,500 citations in literature.
Stay in foreign centers
Bordeaux Hospital, France, 1999-2000.
Limburg University Hospital, Maastricht, Netherlands, 1987-1991.
Saint Eloi University Hospital, Montpelier, France, 1983-1987.
Languages for clinical practice
Catalan
Spanish
French
Dutch
English
Italian