Dr. Edgar Póstius Terrado
Dr. Edgar Póstius Terrado
Chef de l'unité dentaire de l'Hôpital Quirónsalud de Ténérife
Odontology
Diagnosis and prevention
Endodontics
Orthodontics
Invisalign®
Damon braces
Child orthodontics
Braces
Periodontology
Prevention
Diagnosis
Treatment
Cosmetic dentistry
Teeth whitening
Dental veneers
Oral surgery
Maxillary sinus lift
Wisdom tooth extraction
Orthognathic surgery
Facial traumatology
TMJ
Implantology
Single implants
All-On-Four/Six
Zygomatic implants
Immediate loaded implants
Prosthodontics
Fixed prostheses
Fully or partially removable prostheses
Maxillofacial prostheses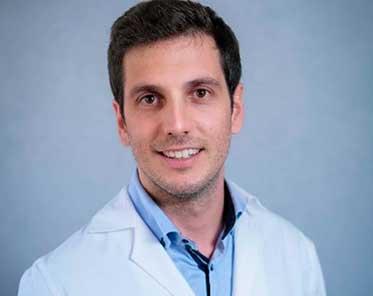 Expérience professionnelle
Edgar Postius attended the University of Catalonia where he gained his bachelor's degree in dentistry. During his university studies, he was an intern at the Branemark Centre in Lleida and in Narc Dental Clinic in Barcelona.
Furthermore, in 2016 he successfully completed a master's degree in oral surgery, implantology and periodontics at the University of León. He has since focused his activity on this area, which includes wisdom tooth extraction, implants and sinus lifts, among other oral procedures.
Aged 15 on a trip to the dentist, his curiosity was sparked and today he is the leading representative at Quirónsalud Dental in Tenerife on a project that was founded with the aim of becoming a benchmark in oral care on the island.