Dra. Ana Vinagre Aragón
Neurologue générale et spécialiste des maladies neurodégénératives à Athenea Neuroclinics, Polyclinique de Gipuzkoa, depuis 2021
Dr Ana Vinagre Aragón has developed her career as a neurologist specialising in neurodegenerative diseases and movement disorders.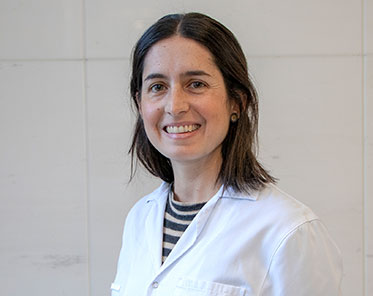 Expérience professionnelle
Neurology resident at Puerta de Hierro University Hospital, Madrid (2012-2016).
Attending physician of neurology at Rey Juan Carlos de Móstoles Hospital, Madrid (2016).
Clinics and Research Fellowship at Royal Hallamshire, Sheffield Teaching Hospital, NHS Foundation Trust.
Attending physician of neurology at Donostia University Hospital (2019-present).
General neurologist and specialist in neurodegenerative diseases at Athenea Neuroclinics, Gipuzkoa Polyclinic (2021- present).
Appartenance à des sociétés scientifiques
Movement Disorders Society.
Spanish Society of Neurology.
Recherche et enseignement
Movement Disorders Study Group of the Spanish Society for Neurology.
Neurodegenerative Diseases Study Group of the Biodonostia Health Research Institute.
Lecturer on the seventh edition of the inter-university master's degree in neuropsychology. Autonomous University of Barcelona and University of the Basque Country.
Séjour dans des centres étrangers
Royal Hallamshire. Sheffield Teaching Hospitals NHS Foundation Trust
Langues pour la pratique clinique
Spanish, Basque, English and German.