Dr. Luis Álvarez Buitrago
Dr. Luis Álvarez Buitrago
Spécialiste en urologie à l'Hôpital Quirónsalud de Tolède
Prostate Cancer
Kidney Cancer
Bladder cancer
Benign prostatic hyperplasia
Urinary lithiasis
Urological reconstructive and restorative surgery
Andrology
Oncological Urology
Endourology
Laparoscopic urological surgery
Accreditation in Thermal Therapy Technique with Water Vapour (Rëzum)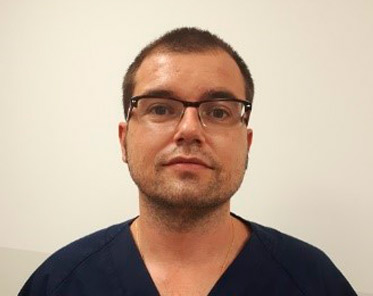 Expérience professionnelle
Specialist in Urology at the Toledo Hospital Complex since 2014.
Member of the Renal Transplant Unit of CHUT 2015-2019.
Head of the Lithiasis and endourology unit at the Hospital Virgen de la Salud.
Private activity in Urology in different centers in Toledo. At Hospital Quirónsalud Toledo since 2014.
Recherche et enseignement
Researcher in the multicenter study: "Epidemiological Study of the Incidence of Prostate Cancer in Spain - 2010".
Researcher in the 3-year prospective study: "Epidemiological Study on Disease Progression and Therapeutic Approach in Patients with Prostate Cancer".
Given my specific training in endourology and laparoscopy I have done several teachings as a teacher, as well as daily teaching to residents attached to the urology service and external rotations to the service.
2015.- Teaching as a teacher in Residents Course of Castilla la Mancha.
Surgical teaching at Albacete University Hospital, for the implementation of Intrarenal Retrograde Surgery for the treatment of lithiasis.
Langues pour la pratique clinique