Dr. Jordi Rabasa
Doctor, Gynecology and Obstetrics Department, at Sagrat Cor University Hospital
Trained at the Vall d'Hebron University Hospital, Dr. Rabasa Antonijuan is a renowned specialist in Gynecology and Obstetrics, with a master's degree in endoscopy and pelvic floor surgery. He counts with years of experience in the profession and extensive training in different fields of the specialty, being an expert in cervical cancer and laparoscopic surgery, among others.
Throughout his career, he has combined his health care work with research activities and is author of numerous scientific articles in his specialty.
Medical expertise in the diagnosis and treatment of pre-invasive lesions of the cervix, vagina, vulva and anus, colposcopy, management of precursor injuries and Pregnancy, management of precursor lesions in HIV positive patients, sexually transmitted infections, diseases of the vulva and clinical management of vulvodynia.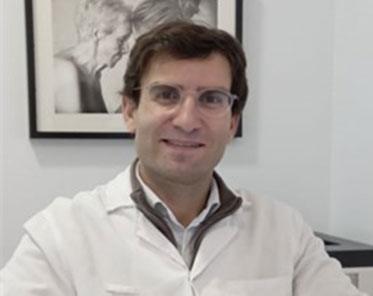 Expérience professionnelle
Present

Doctor, Gynecology and Obstetrics Department, at Sagrat Cor University Hospital
Member of the Hysteroscopy Unit at Diatros, Teknon Medical Center
Specialist in gynecology, Riera Bartra Institute

Previous

Doctor at the Gynecology and Obstetrics Service department at General Catalunya University Hospital (Quirónsalud Group)
Multiples Fellowships at the Breast Pathology Unit at Hospital Clinic Barcelona and Vall d'Hebron University Hospital.
Doctor of Medicine obtained at the Autonomous University of Barcelona. Achieved a qualification of cum laude / excellent.
Appartenance à des sociétés scientifiques
European Society of Endoscopic Gynecology (ESGE)
European Society of Gynecological Oncology (ESGO)
Spanish Society of Gynecology and Obstetrics (SEGO)
Catalan Society of Obstetrics and Gynecology of the Academy of Medical and Health Sciences of Catalonia and the Balearic Islands (SCOG)
Spanish Society of Cervical Pathology and Colposcopy (AEPCC)
Recherche et enseignement
Research:
Dr. Rabasa has focused his research activity on the field of gynecological oncology and preinvasive lesions
Author of 10 articles in international indexed journals
More than 50 participations in national and international congresses
Participation in two clinical trials:
• Promoted by Reig Jofre Laboratory with Protocol Code RJ-GYN01 Principal Investigator: (H. Universitario Araba) Iñaki Lete, MD, PhD.
• Promoted by Astellas Pharma Europe B.V. (APEB) with protocol code 6294-CL 0101
Teaching:
Diverse experience as a collaborating professor at Vall d'Hebrón University Hospital. Courses delivered on perineal tears, management and suturing, Pelvic floor protocols.
Séjour dans des centres étrangers
Training at Ospedale Silvestrini, Perugia (Italy)
Attendance and participation in multiple international conferences and events
Langues pour la pratique clinique