Dr. Gerardo Conesa
Head of the Neurosciences Institute at the Teknon Medical Center
He was the first neurosurgeon in Spain to operate on a patient affected with a brain tumor while he was awake, and he was also the first to use robotics in neurosurgery.
His interest in mapping and monitoring motor and language function in patients with brain tumors centered his thesis and has accompanied him throughout his long professional career.
Dr. Conesa is also a professor of Neurosurgery at the University of Barcelona and has published numerous studies in prestigious scientific publications.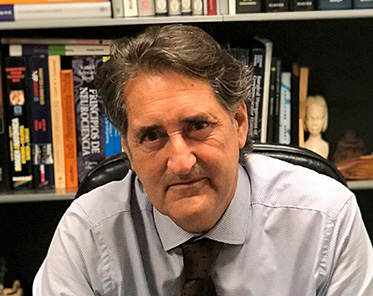 Expérience professionnelle
Appartenance à des sociétés scientifiques
Ramón y Cajal Prize. Decade of the brain. 1995.
Spanish Neurology Society for the publication on of: Presurgical identification of the primary sensorimotor cortex with functional magnetic resonance imaging. J. Pujol, G. Conesa, J. Deus, P. Vendrell, F. Isamat, G. Zanolli, J.L. Martí-Vilalta, A. Capdevila. Journal of Neurosurgery 84: 7-13, 1996. Beca FISS 93/0296. 30000 euros.
Medical Daily Prize to the Best ideas for the implementation of Brain mapping in brain tumour resections. 2003
Member of Neurosurgery Societies: SENEC, EANS, CNS and Catalan Society
Recherche et enseignement
The emergence of grammar in the brain: a comparative study of acquisition, processing, and cortical organization of the structural aspects of language in bilingual and monolingual populations, Program Eurocores (humanities): "The origin of man, language and languages" (OMLL)
Brain and bilinguism. Funding organization: 1162 – Group de recerca de la Generalitat de Catalunya. Program: AJRE – Ajuts a la recerca. Project number: 2001 SGR 00034. Years: 2001 – 2004
Neuro navigation in a virtual reality environment. Funding: Fundación Forum Filatelico. Amount: 126000 euros. Years: 2004-2006
FISS 93/0296. Human brain anatomy-functional information in brain tumor resections in highly eloquent areas. Funding: 30000 €. Spanish Ministry of Health
FISS 98/0289. Language lateralization: validation study of fMRI, Wada test, navigated repetitive TMS and electrical cortical stimulation. Funding: 30000 €. Spanish Ministry of Health
Sylvius project: caring for language in neurosurgery. Stereoscopic multimodal informatic platform for epilepsy surgery and neurosurgical planning. Funding: 2360000 €. Fundació La Caixa and Generalitat de Catalunya (Catalan Administration)
FIS PI 16/00382. "DBS in subgeniculate cingulum and accumbent nucleus as treatment with chronic, severe and refractory anorexia nervosa". Co-investigator