Dr. Antonio García
Chef du service de chirurgie plastique, esthétique et réparatrice à l'Hôpital Quirónsalud de Ténérife
Breast enlargement
Breast reduction
Implant replacement
Rhinoplasty
Facelift
Blepharoplasty
Liposuction
Abdominoplasty
Lipo-lifting
Labiaplasty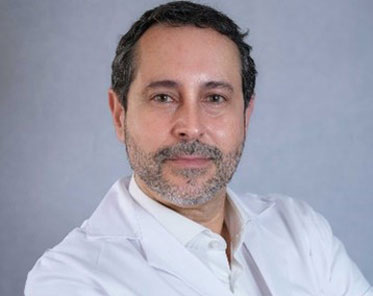 Expérience professionnelle
Dr Antonio García Hernández (Santa Cruz de Tenerife, 1965) graduated with a degree in medicine and surgery in 1991 from the University of La Laguna. He then went on to complete his PhD and to work in the Canarian Health Service in A&E and primary care. The good results he scored in the national MIR exam allowed him to secure a training spot in plastic surgery at the University Hospital of the Canary Islands (HUC), becoming the first plastic surgeon trained at this centre in 2003.
He has conceptualised the four pillars of non-surgical facial rejuvenation, based on the 4R principle: relax, restore, resurface and redrape. He has come to be an esteemed physician thanks to his breast enlargement and reduction, abdominal, eyelid, nose and ear surgeries. Indeed, in 2013, the newspaper 'El Mundo' included him in a list of Spain's best plastic surgeons.
Appartenance à des sociétés scientifiques
He is a member of the Spanish Society for Plastic, Reparative and Cosmetic Surgery (SECPRE) and the Spanish Association of Cosmetic Plastic Surgery (AECEP).
Séjour dans des centres étrangers
Dr García completed his training in the Major Burns Units at Virgen del Rocío Hospital in Seville and Vall d'Hebron Hospital in Barcelona; upper limb flap surgery at Yagüe General Hospital in Burgos; eyelid surgery at Moorfields Eye Hospital in London, with the prestigious specialist Dr Collin, an international leader in this form of surgery; cranio-facial surgery at 12 de Octubre Hospital in Madrid; and cosmetic surgery at Teknon in Barcelona, among others.
He has undertaken numerous stays at the world's leading hospitals in his speciality, with highlights including those completed at Akademikliniken with Dr Per Heden in Stockholm and at Ethianum Klinik in Heidelberg.
In 2005, he moved to Berlin to perfect all his female genital cosmetic techniques with Dr Lukowiz, in an opportunity that also allowed him to develop his own surgical techniques.
Given the huge demand for abdominal surgery among people looking to lose weight, he specialised in a specific, complication-free, Brazilian abdominoplasty technique with Dr Saldaña. Furthermore, he perfected his breast surgery techniques with Dr Heden in Stockholm and Dr Malluci in London.
Langues pour la pratique clinique