Dr. Álex Lüttich Uroz
Neurologue général et spécialiste des maladies neurodégénératives chez Athenea Neuroclinics, Polyclinique de Gipuzkoa, depuis 2021
Dr Álex Lüttich Uroz has almost 20 years of experience as a neurologist specialising in neurodegenerative diseases. He has combined his career in care with research, collaborating on and developing works and publications in the neurosciences area.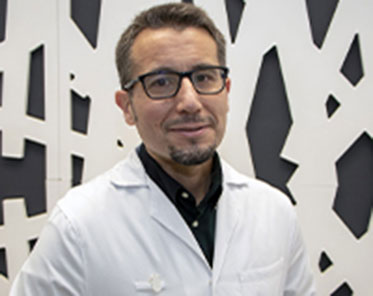 Expérience professionnelle
2003-2007: UDIAT Parc Taulí University Hospital, Sabadell, Barcelona, Radiology Department.
2007-2008: Mar University Hospital, Barcelona, Neuroradiology Department.
2008-2010: Virgen de la Arrixaca University Hospital, Murcia, Neuroradiology Department.
2010-2014: Donostia University Hospital, San Sebastián, Neuroradiology Department.
2014: Alicante General University Hospital, Neuroradiology Department.
2015-2017: Bellvitge University Hospital, Hospitalet del Llobregat, Barcelona, Neuroradiology Department.
2018-present: Donostia University Hospital, San Sebastián, Neuroradiology Department.
Recherche et enseignement
Pre-surgery identification of the central sulcus using GE EPI sequences in combination with 3D reconstruction is a useful and easy technique for functional identification of the sensorimotor cortex. Neuroradiology Journal. 25: 2012.
Brain oedema after carotid revascularisation: Benign syndrome or prelude to haemorrhage? Neuroradiology Journal. 22: 464 - 470, 2009.
Carotid revascularisation using angioplasty and stent in 134 consecutive cases in a reference hospital: A risky technique? Neurología. 25(8):485-90; 2010.
Thrombectomy 6 to 24 hours after stroke with a mismatch between deficit and infarct. (AMANECER). The New England Journal of Medicine. 2018; 378:11-21.
Procedural approaches and angiographic signs predicting first-pass recanalization in patients treated with mechanical thrombectomy for acute ischaemic stroke. Interventional Neuroradiology 2019 May; 9:1591019919847623. doi: 10.1177/1591019919847623.
Should posterior cerebral artery occlusions be recanalized? Insights from the Trevo Registry. European Journal of Neurology 2020 May; 27(5):787-792.
Langues pour la pratique clinique