ДОКТОР ЛЕОН ГОНСАЛЕС МАССЬЕ
ДОКТОР ЛЕОН ГОНСАЛЕС МАССЬЕ
Заведующий отделения травматологии и ортопедической хирургии в HQS Tenerife
Области медицинской специализации
Articular cartilage pathology
Hip pathology
Knee pathology
Ankle and foot pathology
Shoulder pathology
Elbow pathology
Wrist and hand pathology
Arthroscopic surgery
Biological therapies
Fracture osteosynthesis
Spine pathology
Sports traumatology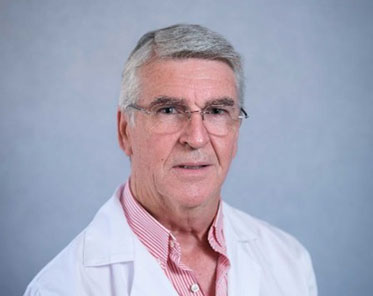 Профессиональный опыт
Dr León González Massieu is backed by more than 30 years of experience as a specialist in orthopaedic surgery and traumatology. He began his career at the University Hospital of the Canary Islands under the Canary Islands Health Service until, ten years ago, he changed role to manage the Orthopaedic Surgery and Traumatology Department at this hospital. During this period, his care activity has mainly focused on prosthetic replacements. He has carried out around 2,000 TKR (total knee replacements) and approximately 1,000 THR (total hip replacements), while he has also performed arthroscopic surgery on knees and shoulders.
The excellent level of care he has offered over the years has earned national and international recognition for both Dr Massieu and the traumatology team he manages. He is a faculty member of Zimmer Institute Surgical Skills, and he has also participated in national and international research studies.
Furthermore, he has attended around a hundred national and international conferences, and completed training stays at Great Ormond Street Hospital in London, La Paz Hospital in Madrid, ENDO-Clinic in Hamburg, St. Luke-Rush University Medical Center in Chicago, Orthopaedic Center in New Jersey, and Humanitas Clinical Institute in Milan.
Членство в научных обществах
Spanish Society of Orthopaedic Surgery and Traumatology.
Spanish Society of Arthroscopy.
American Association of Orthopaedic Surgeons.
Canary Islands Society of Traumatology and Orthopaedics.
Пребывание в зарубежных центрах
Great Ormond Street Hospital (London): Children's orthopaedics (1984).
La Paz Hospital (Madrid): Spinal surgery (1985).
ENDO-Clinic (Hamburg): Hip surgery (1992).
St. Luke-Rush University Medical Center (Chicago): Hip surgery (1992).
Orthopaedic Center (New Jersey): Knee surgery (1998).
Humanitas Clinical Institute (Milan): Arthroscopic shoulder surgery (2002).
Tri-City Medical Center. University of California. Shoulder arthroscopy (2001).
Языки, используемые в клинической практике