د./ إيجناسيو لوخو روكاموندري
د./ إيجناسيو لوخو روكاموندري
رئيس قسم الأوعية الدموية وجراحة الأوعية. مستشفى كيرونسالود لا كورونيا.
Dr Lojo Rocamonde is head of the Angiology, Vascular and Endovascular Surgery Department at Quirónsalud A Coruña Hospital, a position he has held since 2002, and is one of the most renowned specialists in this area. The Angiology, Vascular and Endovascular Department he runs is a benchmark in Galicia for all pathologies related to the arterial and venous system, addressing them comprehensively in terms of diagnosis and treatment. He is one of the country's leading experts on tackling arteriovenous malformations.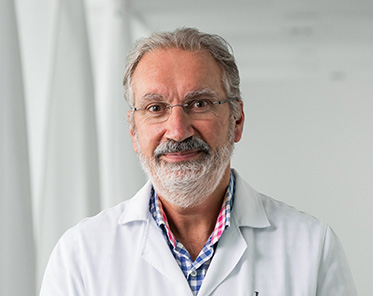 الخبرة المهنية
He gained his PhD in medicine and surgery from the University of Santiago de Compostela and specialised at Cristal Piñor Hospital in Ourense before subsequently becoming section manager at this hospital complex. He completed his training in Dr Mainar's Interventional Radiology Department (Nuestra Señora del Pino Hospital) and in Washington University Hospital in Saint Louis, among other centres. He is famed for introducing conventional and arterial and venous endovascular surgical procedures; he is a clinical specialist in carotid stenting, embolisations and aortic endoprostheses.
Today, the department Dr Lojo manages has implanted more than a hundred aortic endoprostheses and was the first private hospital in Galicia to implant a fenestrated endoprosthesis to treat an aortic aneurysm. It is a leader in the region when it comes to the embolisation of arteriovenous malformations.
العضوية في الجمعيات العلمية
Member of the Scientific Committee of the Endovascular Section of the Spanish Society for Angiology and Vascular Surgery.
He is actively involved in different medical societies, such as the Galician, Spanish and European Societies for Angiology and Vascular Surgery, among others.
البقاء في المراكز الأجنبية
Washington University Hospital, Saint Louis.